Buying your first car is both an exciting and daunting task. Whilst your first car brings a new sense of freedom and independence, it also brings with it running costs and concern for whether it spends more time being repaired than it does on the road.
The good news is that with a little planning and research, you can keep running costs low and reduce your chances of buying a money pit of constant repairs.

Buying Your First Car Guide
Use this guide for buying your first car:
Plan Your Budget
For stress-free car ownership, a major consideration when buying your first car is to plan your budget before making the purchase. Plan what you can realistically afford each month for vehicle purchase and running costs. The figures below are based on national averages and may not represent what you will pay.
Car purchase
It's estimated that 90 percent of all new and used cars are being purchased using a finance agreement. PCP (Personal Contract Purchase) being the most popular for vehicle financial agreements require payment of monthly fees, finalised by a large settlement figure at the end. These agreements typically mean that individuals taking out PCP will not own the car until the final payment has been made. If you're going to use finance to obtain your car, this is likely to be your largest monthly expense. The amount you pay per month depends on the amount the car is worth at the end of the term, interest rate, how much deposit you provide and the term duration (usually 24 or 26 months). To give an estimate, the national monthly car finance repayment is £226.
Insurance
Car insurance for new drivers, particularly those under 25 years of age is a huge expense. The average annual car insurance premium for new drivers is currently £979, which equates to £82 per month.
Fuel
The next highest expense is likely fuel. Fuel prices fluctuate throughout the year and the amount your cars uses depends on how economical it is and how you drive it. To give an estimate, the average fuel cost per month for car owners in the UK is £67.63.
Vehicle tax
Electric cars and other vehicles in Vehicle Excise Duty (VED) band A are exempt from tax. Cars with low CO2 emissions cost £20 per month (band B) and £30 per month (band C) upwards.
MOT
Every car that's three years or older must have an annual MOT to check roadworthiness. The cost of an MOT test is £54.85 or under. On top of this, there may be the cost of parts and labour required to enable your car to pass the test.
Servicing
To ensure your car runs smoothly and reliably, a service is required at least every 12 months or sooner if you cover a lot of miles. The average basic service cost in the UK is around £125.
Tyres
Tyre replacement is another maintenance factor. Tyres last from around 30,000 to 60,000 miles depending on the brand and how you drive. An average cost per tyre including fitting is around £40.

Car Dealer Versus Private Seller
For many, buying their first car is considered an investment for independence and commuting to work. Consider whether the purchase is just about the price, or certain reassurances such as a warranty and a code of practice being important.
Buying a car from a main dealer
Main car dealers are members of motor trade associations which means they have a code of practice to abide by and the association can help to resolve any conflicts should they occur. The vehicle will also have likely been thoroughly inspected before put on sale. Another benefit of choosing a main dealer is a warranty which depending on the age of the car can be from 6, 12 or up to 24 months. If peace of mind and recourse should something go wrong is a priority, a main dealer is an ideal source for used cars. If you intend on buying your first car from a main dealer, you'll generally be in safe hands. However, all these benefits come at an inflated purchase price.
Independent car dealers
Independent car dealers can be a mixed bag. Some may be members of trade associations, others not. Either ask the garage or dealer directly, or check with the trade associations. You can use their websites to search for members:
A good independent car dealer will care about their reputation, so before visiting them, check online for customer reviews. The benefit of an independent dealer is that you're likely to find cheaper cars than main dealers.
Private sellers
If financial savings is your priority, purchasing your used car from a private seller can be the best option, especially as there's more room for negotiation. The disadvantages for buying privately is that the vehicle will not have had any checks prior to selling and there will be no warranty. If you intend on purchasing privately, it's advised that you do so only if you have sufficient knowledge on what to check for, take an associate along who has knowledge or pay for a pre-purchase car inspection. The latter option is ideal if you've already viewed a vehicle and would like a professional to go over it before shaking hands on the deal.

Get Vehicle Information
Once you've found a car that you like, ask for the vehicle registration number and use the DVLA vehicle information service to find out certain details such as:
When the vehicle tax expires and which tax band it's in. Ideal for knowing how much tax you'll need to pay.
When the MOT expires. Ideal to check against the MOT certificate to ensure it's genuine.
The date the vehicle was first registered.
The vehicle's SORN status.
The car's colour.
Its engine size.
Vehicle year of manufacture.
Vehicle CO2 emissions
HPI Check
If you're purchasing a car privately, it's worth checking if there's any outstanding finance on it. If it turns out that there is, your new car may be repossessed and you may not get your money back. A Hire Purchase Investigation, or 'HPI' check not only tells you if there's outstanding finance on the vehicle, but if it's been recorded as stolen or scrapped, if it's an insurance write-off, it can help if there's any discrepancy in the mileage, VIN / chassis check, number of previous owners and the vehicle's MOT history. This information can not only warn of serious issues of the vehicle, but can also be valuable in understanding the history of the vehicle and how well it's been looked after.
V5C Registration Document Check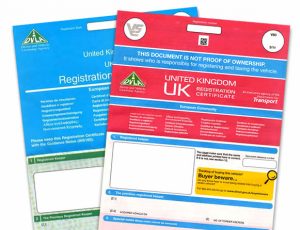 The V5C is the vehicle registration document, also known as the log book. The registered keeper is displayed on the V5C, but this may be different to the legal owner of the vehicle. It's illegal to sell a car without a valid V5C document, so never purchase a vehicle without it. To avoid purchasing a stolen vehicle, ensure the V5C document is genuine by making a few checks:
Make sure the registered keeper on the V5C is the same as the person that you're dealing with.
The address on the V5C is the same location where you're looking at the vehicle.
The vehicle identification number (VIN) / chassis number should match. This can be located on the bottom of the windscreen on the drivers side.
The vehicle registration plate should match.
Check that the vehicle engine size, colour, model etc all match with the V5C document.
Check the document for a watermark.
Check for Vehicle Defects
You've run reasonable checks to ensure the vehicle is genuine, so now let's look for any physical defects on the vehicle. You do of course want your first car to be in great condition, but it may be reasonable to expect a degree of wear and possible light damage if it correlates directly with the age and asking price of the vehicle.
Bodywork
Look around the vehicle to ensure body panel gaps are consistent and not misaligned and that all panels are colour consistent. Look in the footwell area, under door, boot sills for signs of a respray. Look under and around the vehicle for any signs of patchy welding that isn't consistent with the manufacturers standard. Anything inconsistent may indicate the vehicle has been in an accident and has had extensive repairs.
Tyres and wheels
All four fitted tyres must have a minimum of 1.6 mm of tread depth around the entire circumference of the tyre and across the central ¾ breadth of the tyre. If this isn't the case, it would be illegal to drive the vehicle with the tyres being in this condition. Check the wheels for kerb damage.
Check in the boot
Check the spare tyre or tyre inflation kit are present and are in serviceable condition. Check that the jack / spanner tools are present.
Under the bonnet
Check fluid levels including engine oil, brake fluid and engine coolant are at the correct levels. If they're low, it may indicate the vehicle is not well maintained. If the engine feels cold, it means the vehicle's been stationary for a while, so take a look on the ground under the engine for any signs of fluid leaks.
Glass
Check for any cracks and chips, in particular the front windscreen. If there are any cracks or chips in the driver's eyeline, the windscreen may require replacing in order to pass an MOT.
Vehicle interior
Check front and rear seats, carpets and linings are consistent with fair wear and tear based on age and asking price.
Electrics and controls
Test all electrics and controls including the most important such as windscreen wipers, central locking, all windows, headlights / indicators / brake lights.

Test Driving the Car
When buying your first car, one of the most important checks is the mechanics as this often determines the reliability of the car.
Warning lights
Dashboard warning lights inform you if anything is wrong. Most warning lights should illuminate when the ignition is switched on and go out once the engine has started. If the vehicle was manufactured from 2004 or newer, it will have ABS (anti-lock braking system) as standard. Check to ensure the warning light comes on briefly and goes out. Equally, check red warning light such as engine oil pressure all go out once the engine has started.
Starting the engine
If the engine makes unusual noises or vibrates considerably on a cold start, or there's an excess of smoke from the exhaust, it may indicate issues with the engine. If the engine has already been running and is warm (check temperature gauge) ask the seller why.
Test the clutch
If you drive a manual transmission, you'll be used to finding the clutch bite point. If the bite point is high through the clutch working travel, it means it might soon require replacement. If the clutch slips when moving off or the car judders, this is another indication of a failing clutch.
Gears
Gear changes should be smooth and you should be able to change gear easily without any grinding. Don't forget to check reverse gear.
Brakes
Check that the brakes stop the car efficiently. Ideally do this on a quiet road and check there are no vehicles behind you. Apply the brakes firmly and check if the car does not pull to one side when braking.
Steering
Does the steering vibrate or pull to one side when driving in a straight line? This isn't often too serious and may just require the wheels balancing, but it can increase tyre wear and is another expense.
Negotiating for your First Car
If buying your first car from a main dealer, you may receive a small discount when negotiating the price. More often with main dealers, you're more likely to get extras thrown in rather than money off. Free servicing or a free tank of fuel is often a good one to try for.
With independent dealers, garages and particularly private sellers, use any issues that you've found to negotiate the price. Check online for similar cars of a similar age so you can gauge a fair price. If you're confident that you're being fair with your offer and the seller refuses to move on the price, don't be afraid to walk away. They'll often come back to you with a counter-offer.