Passing the driving test means your standard of driving has been deemed good and safe enough for you to drive unsupervised. So you have the skills, but that doesn't help with the nerves and anxiety of driving alone for the first time.

Many individuals are very nervous to drive alone after passing the driving test, so you're not alone. In fact 70 percent of all new licence holders have exactly the same new driver nerves and a fear of driving. But passing the test is just the start to building a skill set to becoming an experienced and confident driver – it just takes a little time. If you've passed the driving test but are feeling a little scared of driving alone, use these tips to reduce those nerves.
Nervous to Drive After Passing the Test
Let's look at these tips in a little more detail..
Take Confidence Boosting Driving Lessons
People seem to be under the impression that passing your driving test means you're ready to take to the roads in any given circumstance. In reality of course, learning to become a confident and proficient driver takes many more years.
Driving lessons aren't just for learners. Driving instructors frequently provide lessons to full licence holders who have a lack of confidence in their driving ability. Confidence boosting driving lessons are ideal for those that are feeling too nervous to drive after passing the test and can be taken if and when you need them and there's no set amount.
Take an Advanced Driving Course
An advanced driving course such as Pass Plus is devised for new full licence holders and includes 6 modules that each last around 1 hour. The course is quite straight forward and helps new drivers experience situations and environments that they may not have experienced during normal driving lessons such as motorway driving, all-weather driving and night driving.
There's no test at the end of a Pass Plus course and most fully qualified driving instructors are able to provide it. Due to the driving experience gained by taking a Pass Plus course, drivers may be eligible for an insurance discount. Additionally, some local councils may offer discounts off a Pass Plus course. Pass Plus is a government initiative and simply involves contacting any driving instructor to arrange. As well as providing greater driving experience, Pass Plus will also help to increase confidence, particularly ideal for nervous drivers who are driving alone for the first time. For further formation, see Pass Plus.

Attach P Plates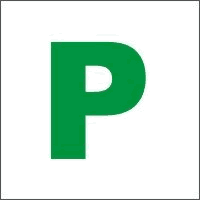 P plates are the same size as L plates and you attach them just as you would L plates. The green 'P' stands for 'probationary' and they're used by new full licence holders to make other road users aware that they are inexperienced.
Unlike L plates, there's no regulation, so it's the driver's choice whether they wish to display P plates or not. P plates can be kept on a vehicle for as long as the driver wishes and are typically removed when the driver gains in confidence. The idea behind P plates is that other drivers will be a little more patient and provide more room.
Take Responsible Person Along on your First Drive
Rather than going it alone on your very first drive, a good way to reduce nerves is to take a responsible person such as a parent or friend. Avoid taking a car full of friends as this is likely to cause you distraction and choose one person who will offer you support and ideally some advice.
Schedule a Time that's Quiet for your First Drive Alone
To help build confidence, for your first drive all on your own, schedule a time that's going to be quiet with as minimal traffic on the roads as possible. That's likely to be early morning or on a Sunday. Initially take a short drive around the block and if you're feeling confident, take a slightly longer trip.
Use Google Maps to Plan your Route
When it comes to taking your first long drive on your own, planning is the key to avoiding anxiety. Before the journey, check out the route on Google Maps. You'll see the different types of roads that you'll be driving on plus any busy roundabouts and traffic light systems. With Google Maps / Street View, you can zoom right in and navigate the roads and traffic systems just as though you were driving a car. This helps to reduce nerves and anxiety as you'll know exactly what to expect and what you'll be dealing with.